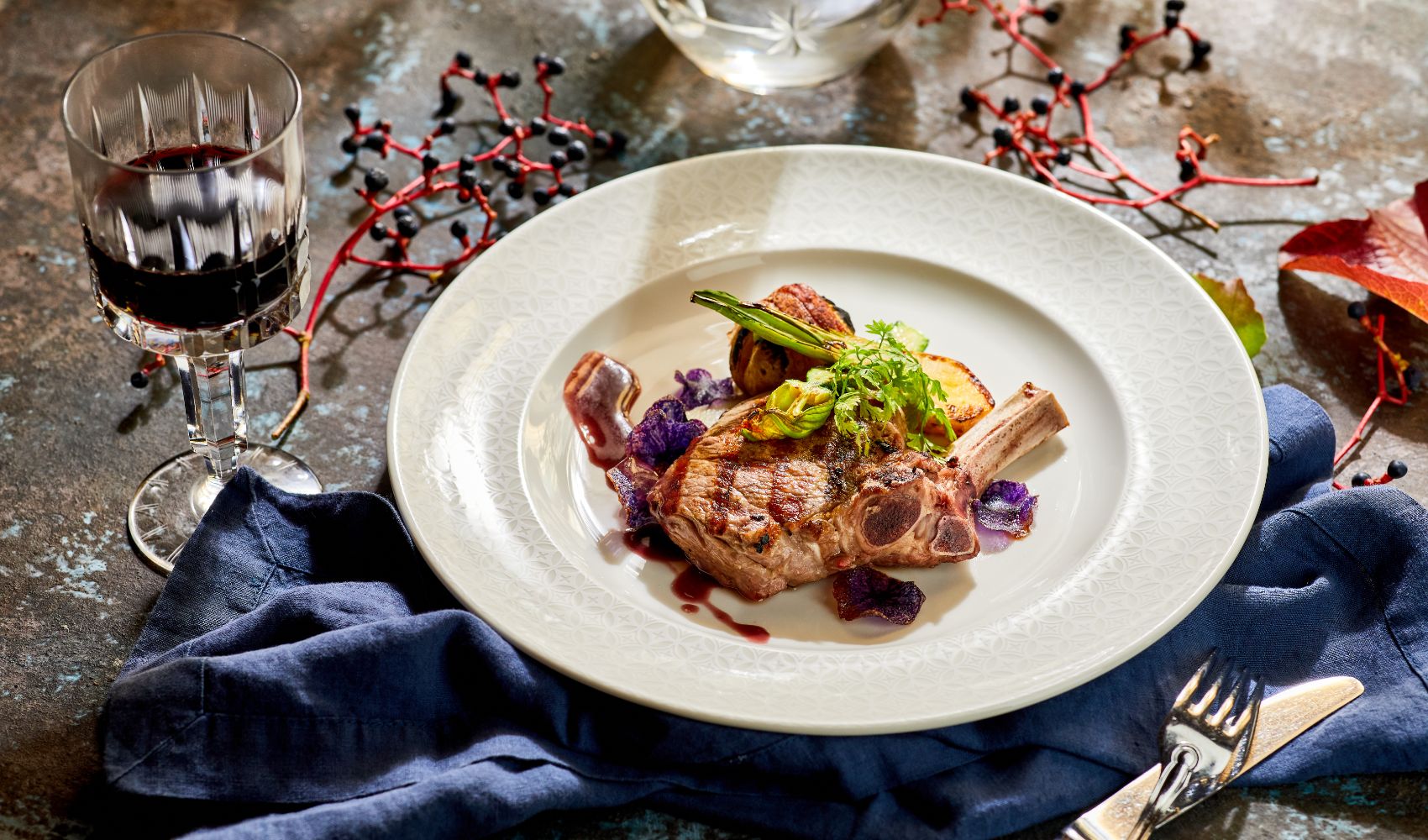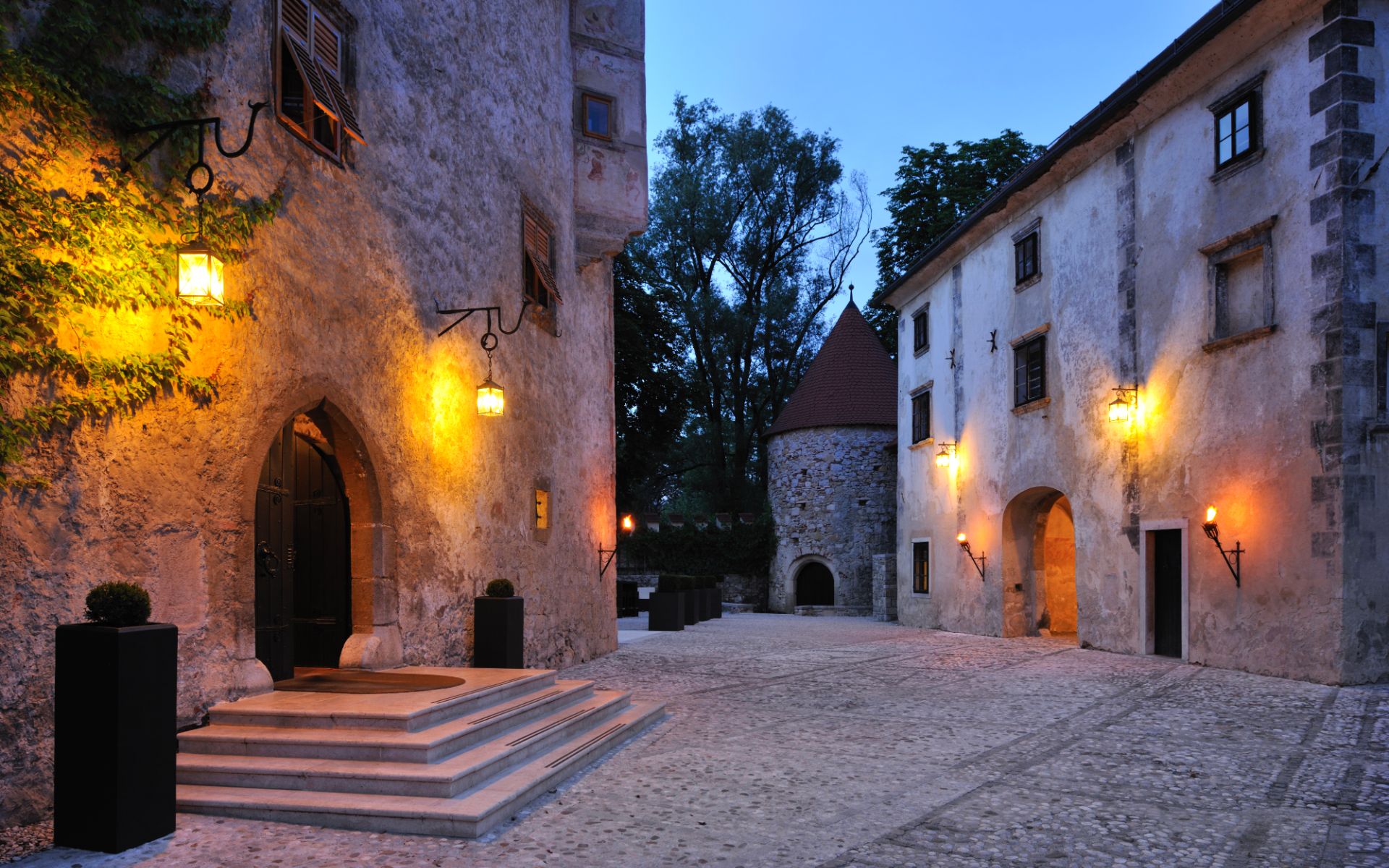 Restaurant
We are proud that the Michelin Guide recommends a visit to our restaurant in 2023.
The recommendation points out that the Otočec Castle Restaurant offers a sense of relaxation and tranquillity in a beautiful setting, while seasonal local ingredients ensure full-flavoured dishes prepared with great imagination by the castles's chefs.

Many of the ingredients are produced by us in our own Organic Garden, while the rest is supplied by nearby farms certified for organic and integrated production and animal rearing. Nature is the best source of inspiration for our culinary creations. It provides ideas for creating dishes to recreate the harmony and beauty of our environment. We are also proud of the ambience of the restaurant and the special atmosphere – both in the main restaurant, the Hunting Room with fireplace and the café, and on the terrace within the castle walls.

The Castle Restaurant is a member of the renowned Chaîne des Rôtisseurs gastronomy association.
Come in and enjoy!
Dear Guests,Our recommended in the restaurant of Hotel Grad Otočec dresscode is casual chic. Sportswear is not desirable.
Open:
Wednesday-Sunday: 12:00-22:00
Reservation:
+386 7 38 48 901
Tasting menu
Fine Dining at Otočec Castle
Tasting menu

The secrets of summer flavours
Cold starter
...crisp freshness to start 
Purple potato mousse with miso dressing, cauliflower and crispy cucumber from the Organic Garden,
roasted hazelnut kernels with yoghurt
***
More than just a soup
...with romantic lace to top it off
Clear fish soup, rainbow trout, pumpkin gnocchi and chanterelles
***
Warm starter
...dissolves all doubts
Pork cheeks, black radish chips and bone marrow with a touch of double cream
***
Main course
...when only the taste buds speak  
Aged beef, white polenta, shallots and Jerusalem artichokes, tender black walnut slices and rhubarb stalks
***
Dessert
...because a sweet ending is the best ending 
Baked caramel chocolate, yoghurt sorbet and playful peach with aromatic yuzu
3-course menu: cold or warm starter, main course, dessert
For the 3-course menu, the entire table must select the same dishes.
5-COURSE MENU – 65 EUR
3-COURSE MENU – 39 EUR 
Guest reviews (TripAdvisor)
Clarisabeatriz (Buenos Aires, Argentina)
Rate: 5/5
"Excellent !!!"
"Dream place. Delicate atmosphere and very good taste, suitable for this castle. Very good staff attention."
Francy-kika (Ancona)
Rate: 5/5
"Exquisite"
"In addition to the must-see location. The kitchen of this restaurant is impeccable. The dishes are taken care of and combinations chosen with excellence. Green tagliatelle with truffles even in Italy I've never eaten so good. The meat is divine! Prices are calibrated at the location! Worth spending when you feel satisfied."
Bganzolo (Bordeaux, France)
Rate: 5/5
"My favourite place"
"This is my favorite restaurant so far. I've been going there almost once a year every time we pass by Slovenia. Food is amazing, service is perfect and prices are descent. See you next year!"
1953sonjica (Bled, Slovenia)
Rate: 5/5
"Perfect dinner"
"We had excellent dinner!. Food was great, very tasty and served professionaly and very friendly. We dined in hunter's room,small cosy restaurant with open fire and intimate atmosphere."
Maurizio M (Casale Monferrato, Italy)
Rate: 5/5
"Taste & Charm"
"For years we frequent the area of Slovenian spas and many times we can not resist the temptation to dine in the castle full of charm and excellent cuisine. The dishes are typical of the Slovenian dishes but served with the class of a great restaurant. The cellar is very accurate and the maitre d who also speaks Italian is capable is very thoughtful. Despite being a local high level, the value for money is more than good. Obviously it recommended. We would definitely visit again, as every year."
Bjoann (Lund, Sweden)
Rate: 5/5
"Good even for a quick stop"
"If you do not have time for a full meal, this is a wonderful place to stop during a drive. Or make a special outing. Service is friendly even if you only want coffee or tea and a cake. Large assortment of baked good and puddings. Recommend the gribanica: thin pastry with layers of apple, fresh cheese and black poppy seed. Served warm. This is a local specialty but nowhere better than here."
Rollingbay (Seattle, Washington)
Rate: 5/5
"Highlight of trip"
"For our anniversary, tried to book something special and the Romantic Weekend deal at the Grad Otocec Hotel was perfect. My husband was really surprised and delighted to spend two nights in this beautifully renovated castle hotel. We enjoyed a bottle of champagne on ice, a 3 room suite, a marvelous 4 course "romantic" dinner, and a huge bathroom with Jacuzzi which we used. The booking includes entry to the swimming pool at a neighboring hotel. Instead of sightseeing the second day, walked the trail between the castle and the village and back and rather than drive to Novo Mesto for dinner, stayed at the hotel again for their gourmet tasting menu. If you love to eat, you won't go wrong booking here. Even their breakfast buffet is something to write home about."
Cursious2 (Kansas City, Kansas)
Rate: 5/5
"An experience of a lifetime"
"When do you get to have superior food, at a reasonable price, with excellent service, in a castle? The mushroom appetizer is to die for and the fish is marvelous. Everything is beautifully prepared and presented. The service is outstanding, with great knowledge regarding wines - local and otherwise. Highly, highly recommend a stay at the castle, or at least taking the time to dine for dinner or even lunch."
Poduljin (Zagreb)
Rate: 5/5
"Enjoyed it"
"We came from Zagreb for a brunch during week, on a whim - fortunately no reservation was needed. Very good food and solid wine, great service with moderate to high prices. Nice surroundings for a short walk."
KittyCat22 (Singapore)
Rate: 5/5
"Venison was great - service perfect"
"We are fussy!!!!! This was perfect...we arrived late and the staff were super - our waiter was very knowledgable and patient with us (we could not decide on the wine)...loved his recommendations. Want to go again."
Junebuggzz (Parker, Colorado)
Rate: 5/5
"Amazing food and wine!"
"We had orange wine, cheese platter that was beyond amazing, chicken, the best cauliflower soup ever!"