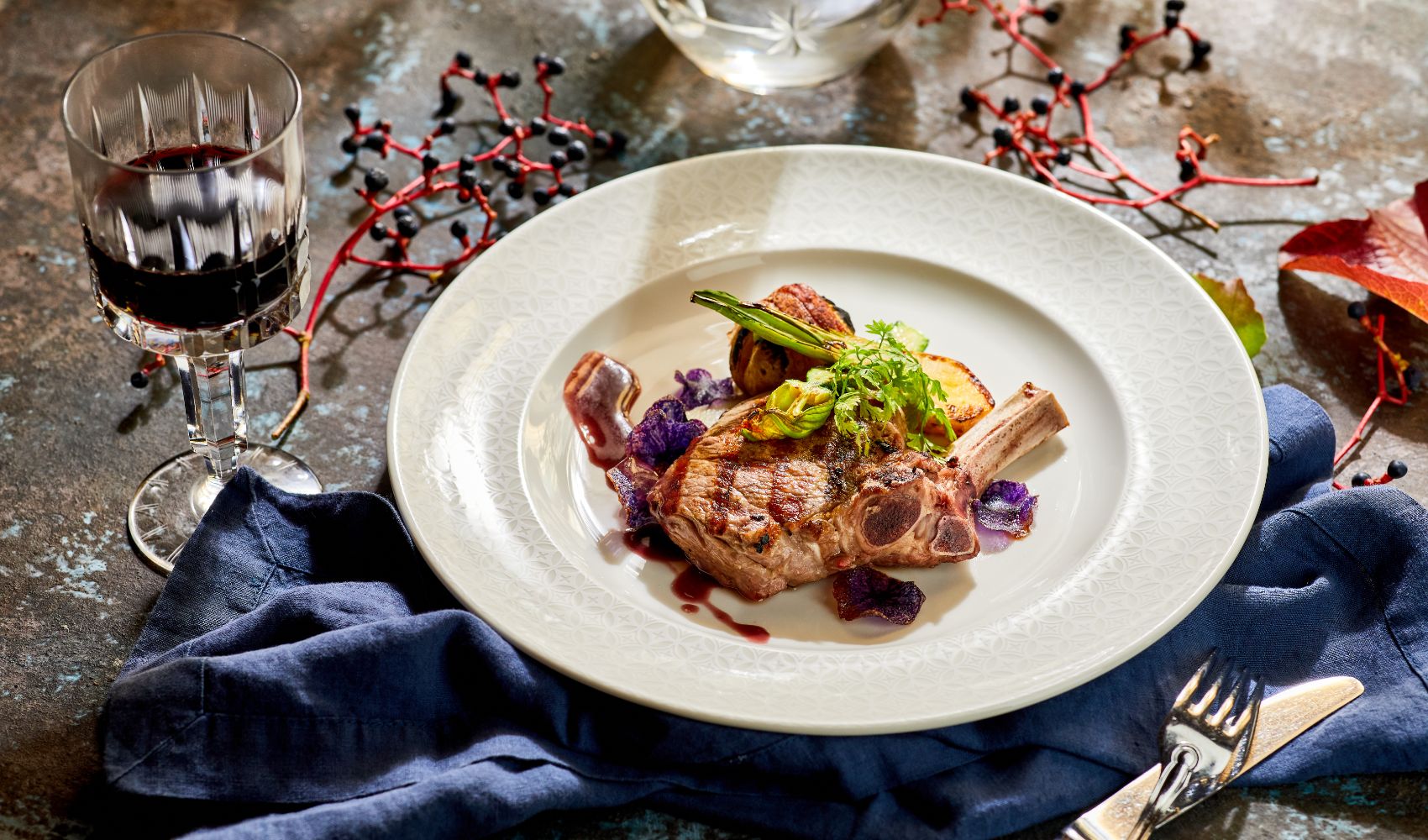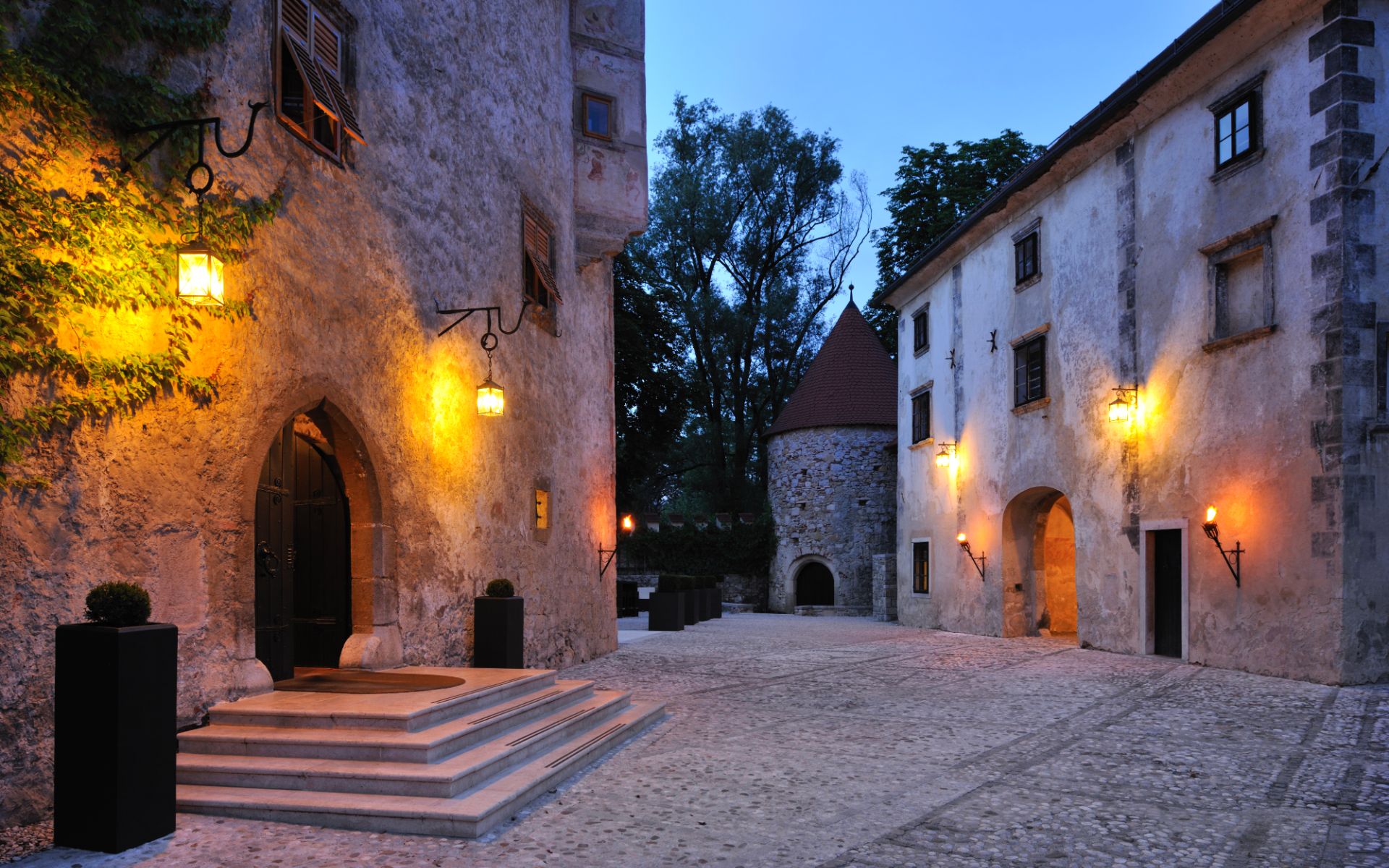 Restaurant
Das Castle Restaurant ist Träger des Michelin Plate Award und Mitglied der renommierten Chaîne des Rôtisseurs. Das Team verbindet der Fokus auf das Natürliche, Regionale, Frische und Köstliche. Viele der Zutaten werden von uns selbst im hauseigenen Bio-Schlossgarten hergestellt, der Rest wird von umliegenden Bauernhöfen geliefert, die für die biologische und integrierte Produktion und Zucht zertifiziert sind. Die Natur ist die beste Inspirationsquelle für unsere kulinarischen Kreationen. Darin finden wir Ideen für die Zusammenstellung von Gerichten und stellen auf den Tellern die Harmonie und Schönheit unserer Umgebung nach. Stolz sind wir auch auf das Ambiente des Restaurants und die besondere Atmosphäre – sowohl im Hauptrestaurant, der Jagdstube mit Kamin und Café als auch auf der Terrasse innerhalb der Burgmauern. Treten Sie ein, schauen Sie sich um und genießen Sie es!
Offen :
Mittwoch-Sonntag | 12:00–22:00
Reservieren:
+386 7 38 48 901
DEGUSTATIONSMENÜ
KALTE VORSPEISE
Rote Bete ist gut fürs Blut
Marinierte Entenbrust, rote-Bete-Tatar, Gelée aus Ziegenquark, Avocadopüree, angesäuerte rosa Rote Bete, Champignonscheiben
**
SUPPE
Eine heiße Suppe für kalte Tage
Doppelte Hühnerkraftbrühe Consommé double mit einer Räucherquark-Ravioli, Hähnchenpastete und Suppengemüse
**
WARME FORTSETZUNG
Gerste und Buchweizen sind in Dolenjska (Unterkrain) zu Hause
Buchweizen- und Gerstenbrei mit Kartoffelmousse, pochiertem Eigelb, Kartoffelchips, Zwiebelpulver und Kräuteröl
**
HAUPTSPEISE
Lamm mit Štrukelj (eine Art gekochter Strudel mit Füllung)
Lammfilet mit gebratenem štrukelj (eine Art Strudel mit Rotkrautfüllung), Püree aus frischem Weißkohl, Senf, sautiertem Wirsing und gerösteten Haselnüssen
**
DESSERT
Gestürzter Kuchen mit Eis
Französischer Apfelkuchen tarte tatin, Backapfel-Eis, Backapfel-Gelée, Vanillecreme, Karamellpulver
3-course menu: kalte oder warme starter, main course, dessert
For the 3-course menu, the entire table must select the same dishes.
5-COURSE MENU – 65 EUR
3-COURSE MENU – 39 EUR 
TripAdvisor
Clarisabeatriz (Buenos Aires, Argentina)
Rate: 5/5
"Excellent !!!"
"Dream place. Delicate atmosphere and very good taste, suitable for this castle. Very good staff attention."
Francy-kika (Ancona)
Rate: 5/5
"Exquisite"
"In addition to the must-see location. The kitchen of this restaurant is impeccable. The dishes are taken care of and combinations chosen with excellence. Green tagliatelle with truffles even in Italy I've never eaten so good. The meat is divine! Prices are calibrated at the location! Worth spending when you feel satisfied."
Bganzolo (Bordeaux, France)
Rate: 5/5
"My favourite place"
"This is my favorite restaurant so far. I've been going there almost once a year every time we pass by Slovenia. Food is amazing, service is perfect and prices are descent. See you next year!"
1953sonjica (Bled, Slovenia)
Rate: 5/5
"Perfect dinner"
"We had excellent dinner!. Food was great, very tasty and served professionaly and very friendly. We dined in hunter's room,small cosy restaurant with open fire and intimate atmosphere."
Maurizio M (Casale Monferrato, Italy)
Rate: 5/5
"Taste & Charm"
"For years we frequent the area of Slovenian spas and many times we can not resist the temptation to dine in the castle full of charm and excellent cuisine. The dishes are typical of the Slovenian dishes but served with the class of a great restaurant. The cellar is very accurate and the maitre d who also speaks Italian is capable is very thoughtful. Despite being a local high level, the value for money is more than good. Obviously it recommended. We would definitely visit again, as every year."
Bjoann (Lund, Sweden)
Rate: 5/5
"Good even for a quick stop"
"If you do not have time for a full meal, this is a wonderful place to stop during a drive. Or make a special outing. Service is friendly even if you only want coffee or tea and a cake. Large assortment of baked good and puddings. Recommend the gribanica: thin pastry with layers of apple, fresh cheese and black poppy seed. Served warm. This is a local specialty but nowhere better than here."
Rollingbay (Seattle, Washington)
Rate: 5/5
"Highlight of trip"
"For our anniversary, tried to book something special and the Romantic Weekend deal at the Grad Otocec Hotel was perfect. My husband was really surprised and delighted to spend two nights in this beautifully renovated castle hotel. We enjoyed a bottle of champagne on ice, a 3 room suite, a marvelous 4 course "romantic" dinner, and a huge bathroom with Jacuzzi which we used. The booking includes entry to the swimming pool at a neighboring hotel. Instead of sightseeing the second day, walked the trail between the castle and the village and back and rather than drive to Novo Mesto for dinner, stayed at the hotel again for their gourmet tasting menu. If you love to eat, you won't go wrong booking here. Even their breakfast buffet is something to write home about."
Cursious2 (Kansas City, Kansas)
Rate: 5/5
"An experience of a lifetime"
"When do you get to have superior food, at a reasonable price, with excellent service, in a castle? The mushroom appetizer is to die for and the fish is marvelous. Everything is beautifully prepared and presented. The service is outstanding, with great knowledge regarding wines - local and otherwise. Highly, highly recommend a stay at the castle, or at least taking the time to dine for dinner or even lunch."
Poduljin (Zagreb)
Rate: 5/5
"Enjoyed it"
"We came from Zagreb for a brunch during week, on a whim - fortunately no reservation was needed. Very good food and solid wine, great service with moderate to high prices. Nice surroundings for a short walk."
KittyCat22 (Singapore)
Rate: 5/5
"Venison was great - service perfect"
"We are fussy!!!!! This was perfect...we arrived late and the staff were super - our waiter was very knowledgable and patient with us (we could not decide on the wine)...loved his recommendations. Want to go again."
Junebuggzz (Parker, Colorado)
Rate: 5/5
"Amazing food and wine!"
"We had orange wine, cheese platter that was beyond amazing, chicken, the best cauliflower soup ever!"