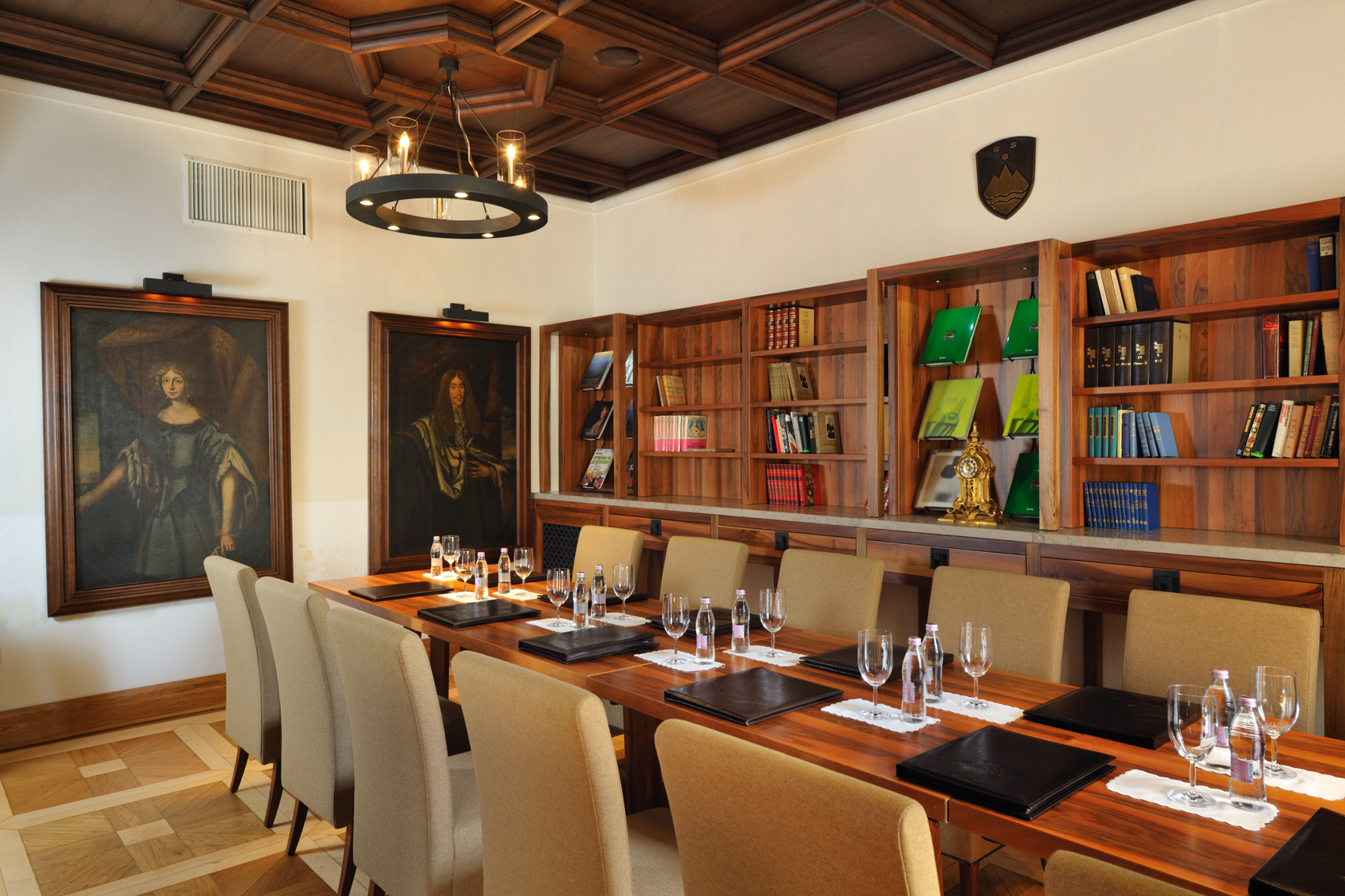 Otočec Castle's setting on an islet affords a great deal of privacy and exclusivity to business events and state ceremonies. Our team of seasoned professionals is actively involved in organising events, and there is all the necessary state-of-the-art technology available on site. Success is guaranteed.
Everything for a perfect business meeting
Rooms with state-of-the-art equipment, suitable for organizing different types of meetings are available. Your events can be further enhanced by organizing business lunch in the pleasant atmosphere of the Castle Restaurant, social events, team building programmes as well as excursions across the regions of Dolenjska and Bela Krajina.
There are two helicopter landing zones near Otočec Castle. Their coordinates are: 45° 50' 16.50'' N 015° 14' 01.30'' E and 45° 50' 28.00'' N 015° 14' 00.80'' E.
Top-level meetings
The Otočec Castle Hotel has often been the venue of important political meetings. In 2011, it hosted the meeting between Ivo Josipović, the president of Croatia, and Danilo Türk, the president of Slovenia. In 2013, Karl Erjavec, Minister of Foreign Affairs of Slovenia, hosted Vesna Pusić, Minister of Foreign Affairs of Croatia.
Top-level meetings of 10–15 people require a special setting: Otočec Castle Hotel's royal suite or the Knight's Room.
Conference room capacities
There are different conference facilities available for organizing your business event, depending on the number of participants.

Meeting room at the superior suite

Basic seating arrangement is suitable for up to 10 people.
The suite's vestibule functions as a reception room suitable for media interviews.
Free wireless broadband Internet access is available.

Knight's Room

Basic seating arrangement is suitable for up to 14 people.
Free Wi-Fi is available.

Castle Restaurant, Hunter's Room or the castle terrace

You business meetings can be held in the Castle Restaurant, Hunter's Room or even on the castle terrace.

Equipment and services:

LCD projector and screen or plasma TV,
sound system,
Wi-Fi in all the seminar facilities.
Additional services:
festive dinner at the Otočec Castle Restaurant,
dinner at the Krkin hram vineyard cottage on Trška gora hill,
picnic at the Otočec picnic area,
team building programmes (cookery workshop, golf lessons, medieval tournaments, fun sporting games, kayaking and canoeing on the Krka River, Nordic walking …).